20th annual Breath of Life Ventura Triathlon/Relay will be held on Sunday, May 20th, 2018 at Ventura Harbor, Ventura, CA. A portion of proceeds from this charity event will go towards the improvement of treatment facility at local hospitals supporting children diagnosed with Primary Immunodeficiency (PI). We encourage athletes to perform their own fundraising in support of this cause.
Post Race Party: After the race plan on hanging out for the party and enjoy the hosted Barbecue, Beer Garden (21 and older participants) Food Fair and music. This party is our way of thanking everyone for helping the Dina LaVigna Breath of Life Fund.

• Fast, flat and scenic course
• Timing chips for all racers
• Post Race BBQ
• Beer Garden for all participants ages 21 and over
• USAT sanctioned race
• USAT Southwest Region Talent ID Series event
Distances:
Sprint/Relay (Swim 750m, Bike 20.4km, Run 5km)
International/Relay (Swim 1.5km, Bike 40km, Run 10km)
Awards:
Commemorative awards will be given to the 1st, 2nd and 3rd place finishers in each age group.
Medals for all finishers.
---
Registration Fees
Prices good until
Early Price
after 12/31
after 2/15
after 3/31
after 4/30
Sprint Tri - (Age 15+)
$90
$100
$110
$125
$135
Sprint Tri - Youth (Age 11-14)
$60
$65
$70
$75
$80
Sprint Tri - Relay
$120
$130
$140
$150
$160
Olympic Distance
$105
$115
$125
$140
$150
Olympic Distance - Relay
$125
$135
$150
$160
$170
USAT 1-Day License
Triathlon $15 Relay $15/person Youth (17 & under) $10 (annual)


All individuals and relay participants in the triathlon & duathlon must have a USAT-Annual license or pay $15 for a 1-day license (Youth 17 and under is $10). To purchase an annual license for $50 (youth $10) go to www.usatriathlon.org

The Breath of Life Triathlon benefits the Jeffery Model Foundation's Breath of Life Fund and requires a $10 donation and a suggested donation of $20. Participants are encouraged to sign up to fundraise or form a fundraising team to have event more impact. Your donation will help with early diagnosis, treatment and cures for Primary Immunodeficiency. All moneys donated are sent directly to the foundation and are tax deductible.
---
Swim Course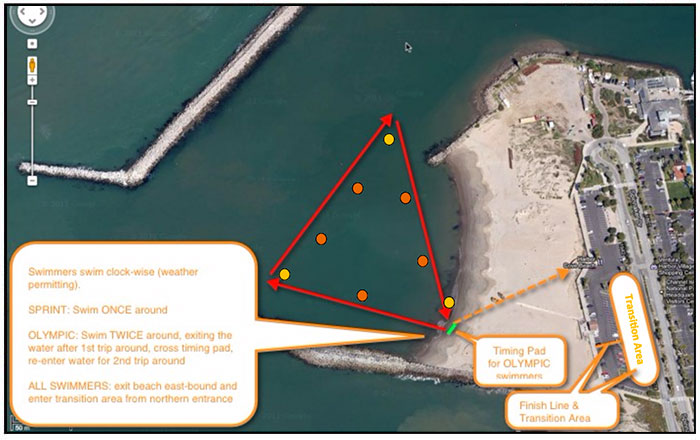 Download PDF
Swim start Waves: click here (PDF)
Bike Course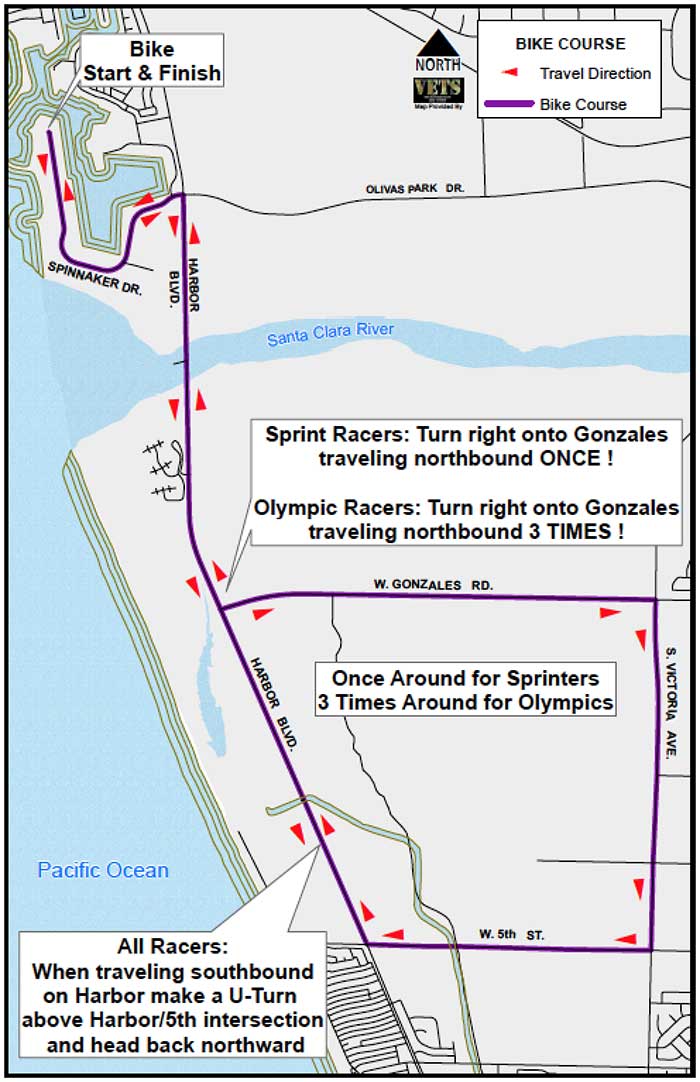 Download PDF
Run Course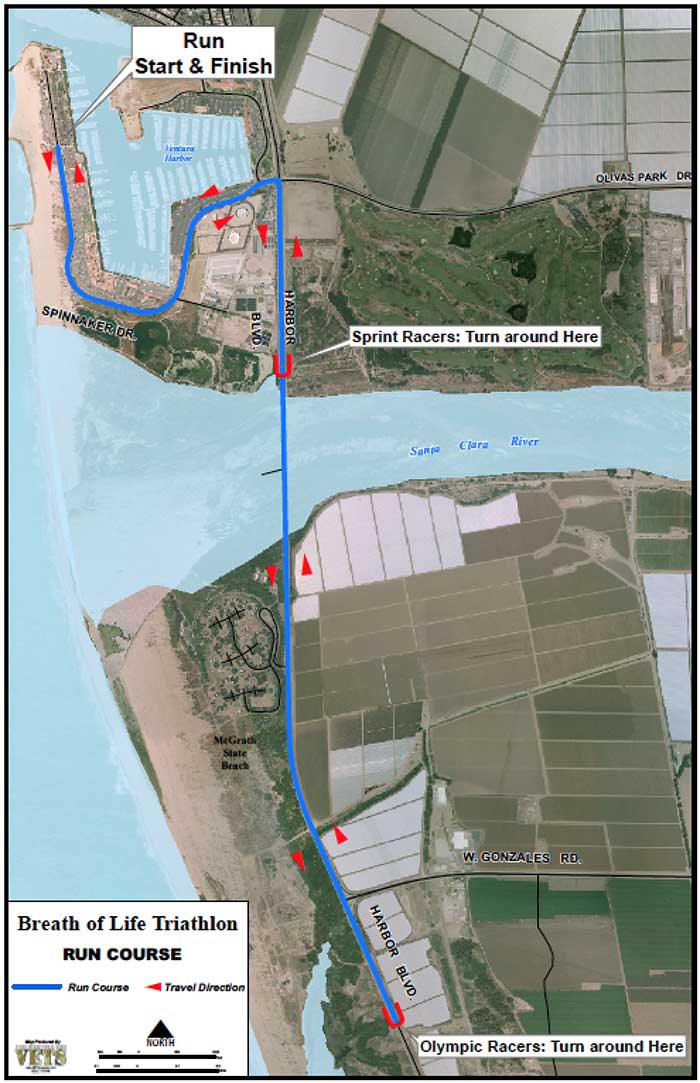 Download PDF
---
Location & Directions:
Ventura Harbor
Spinnaker Drive Ventura, CA 93001
Parking:
---
Saturday, May 19, 2018
Race Day Schedule (Sunday, May 20, 2018)
5:30 am Registration/Packet Pickup & Transition Area Open
6:15 am Course Talk
6:30 am Race Start/First Swim Wave: International/Olympic Distance
7:00 am Race Start/First Swim Wave: Sprint Distance (estimated start)
8:30 am Lagunitas Beer Garden Opens (21+)
9:00 am Awards Ceremony (Sprint Distance)
9:30 am LaVigna Family BBQ Opens to all Athletes
9:30 am Awards Ceremony (International/Olympic Distance)
11:00 am Lagunitas Beer Garden Closes
Swim start Waves: Wave schedule will be released a week before the event.
Triathlon Race Rules and Age Group Divisions please see FAQ page
---
Beer Garden
Join us in the Beer Garden after the race for a Lagunitas Brew! Celebrate your accomplishment and download your race details with your buddies. All participants 21+ receive a beer included in registration. All proceeds go to Dina LaVigna Breath of Life Fund.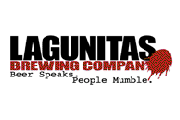 ABOUT LAGUNITAS
Lagunitas Brewing Company began on a kitchen stove in Northern California in 1993. From actually getting beers into bottles and onto the streets, Lagunitas looks to the future… From expanding the Petaluma Brewery to building a second in Chicago and soon a third in Azusa, Calif., to bringing its flagship IPA across the pond, Lagunitas could probably make good beer on the Moon. Wherever you go, beer speaks, people mumble. More mumblings at www.LAGUNITAS.com
Click here to learn more about our commitment to responsible beer garden practices.
---
Beneficiary/Charity Partner:
Dina LaVigna Breath of Life Fund
The Breath of Life Fund is dedicated to the loving memory of Dina LaVigna, a very special person diagnosed with a disease called Primary Immunodeficiency (PI). PI is a set of hereditary disorders that is caused by a defect in genes responsible for the development of the immune system and afflicts over 10,000,000 people worldwide. The mission of the Fund is to improve the care and comfort of PI patients, many of them very young, by improving the patient experience in hospitals. To date, the Fund has had the honor of donating funds responsible for major renovations at Mt. Sinai Hospital in New York City, the Mattel Children's Hospital at UCLA, and Children's Hospital Los Angeles.
The Dina LaVigna Breath of Life Fund is part of the Jeffrey Modell Foundation, a charity organization dedicated to researching a cure to PI, educating the medical community about PI, and informing the general public about PI.
To make a donation click here.
---
Training Partners
Coming soon!
---
Official Nutrition Sponsor of the Southern California Triathlon Series
---
Sponsors
Interested in sponsoring Breath of Life Ventura Triathlon?
Contact us at 949-975-1812 or by email at This email address is being protected from spambots. You need JavaScript enabled to view it.