Run, Walk and Ride the Coasters for Talk About Curing Autism (TACA). The Coaster Run offers a 5K Run/Walk, 10K Run and 1K Kids Fun Run in Bugs Bunny World followed by a finish-line expo. Purchase entrance to the theme park during checkout for more than half off regular price!
Distances:
5K (3.1 miles)
10K (6.2 miles)
1K Kids fun run in Bugs Bunny World
VIP Package:
100% of proceeds go to TACA! FREE VIP Parking,VIP entrance & gear check (with exclusive potty!), choose your race distance AND a Six Flags Magic Mountain park ticket for after the race. This is a great way to give to Talk About Curing Autism!
The Coaster Run – Virtual Race (US Participants Only)
Any distance all the BLING! We are excited to continue the Coaster Run Virtual Race!
Register for the Coaster Run Virtual Race on-line: $40 US Participants ONLY.
Virtual Race registration closes on 3/17. Transfers to/from the Virtual event are not permitted after 3/17.
Pre-print your virtual bib (will be emailed on or before 3/27) and upload pictures of you and your friends completing your very own Coaster Race. Make sure to upload pictures and hash tag #RenegadeRace #CoasterRun #TACA #MagicMountain. *not required, but fun!
Run any distance you desire from March 27th to April 2nd to qualify.
Race SWAG includes: printable race bib, event t-shirt, finisher's medal. Goody bag is not included.
Race SWAG will be mailed after April 3rd. Please allow 2-4 weeks delivery.
Registration Fees
Early Price
After 10/31
After 11/30
After 1/31
After 2/28
5K Open Run/Walk
$38
$40
$44
$47
$50

10K Run/Walk

$45
$47
$52
$55
$58
1K Kids fun run in Bugs Bunny World - Youth (14 and under)
$15
$17
$19
$21
$23
1K Kids fun run in Bugs Bunny World (15 and older)
$28
$30
$34
$37
$40
Virtual Run
$40
$40
$40
$40
$40
VIP Package - Includes VIP parking, VIP area, choice of race distance + park entrance after the race
$150
$150
$150
$150
$150
Park Entrance (Available during registration or on site)
$37
$37
$37
$37

$37

Race Day: $40
Late Registration not guaranteed shirt/size.
Start Times:
5:30am Registration/Packet Pickup Opens
7:00am 10K Start
7:15am 5K Start
8:15am Awards - 5K followed by 10K
9:00am Bugs Bunny World Kids Run Start
Parking:
Parking is $5 (cash only)
Free VIP parking is included in VIP package.
5K & 10K Course Map
Download 10K & 5K Course Map PDF
Kids Run Course Map
Download Kids Run Fun Run Map (PDF)
---
Beneficiary/Charity Partner: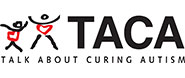 About TACA & Autism:
Founded in 2000 Talk About Curing Autism (TACA) is a national non-profit 501(c)(3) organization dedicated to educating, empowering and supporting families affected by autism.

Autism can be a life-long condition affecting children and families of all races and socioeconomic standings. Since 2000, rates of ASD diagnoses have skyrocketed, increasing over 300% making it the fastest growing childhood disability in the U.S. In 2016 the Center for Disease Control reports 1 in 68 children are on the spectrum.

From a grassroots beginning in Southern California, TACA has now become the nation's leading autism support organization. Serving well over 45,000 families we have a physical presence in 24 states via our chapters, and a virtual presence throughout the rest of the nation. While other organizations fulfill a crucial role in autism research, TACA is uniquely focused on providing practical, day-to-day, direct service and support for affected individuals and families. We are Families with Autism Helping Families with Autism.

You too can make an important difference in the lives of individuals and families affected by autism! Get started today and create a team or individual fundraising page.
To learn more about Talk About Curing Autism and autism please visit www.tacanow.org.
---
Sponsors
Interested in sponsoring Coaster Run at Six Flags Magic Mountain?
Contact us at 949-975-1812 or by email at This email address is being protected from spambots. You need JavaScript enabled to view it.