Triathlon & Relay
3.1 mile run | 8 mile bike | 175 yard pool swim
RAIN OR SHINE!
---
Registration Fees
Prices good until
early bird
after 8/31
after 10/31
after 12/31
Sprint Triathlon (Ages 15+)
$69
$79
$89
$99
Sprint Triathlon Relay
$99
$119
$134
$149
Youth Sprint Triathlon (Ages 11-14)
$39
$44
$49
$54
USAT 1-Day License (Triathlon only)
Triathlon $15 Relay $15/person Youth (17 & under) $10


All individuals and relay participants in the triathlon must have a USAT-Annual license or pay $15 for a 1-day license (Youth 17 and under is $10). To purchase an annual license for $50 (youth $10) go to www.usatriathlon.org
---
Course Maps
Sprint Triathlon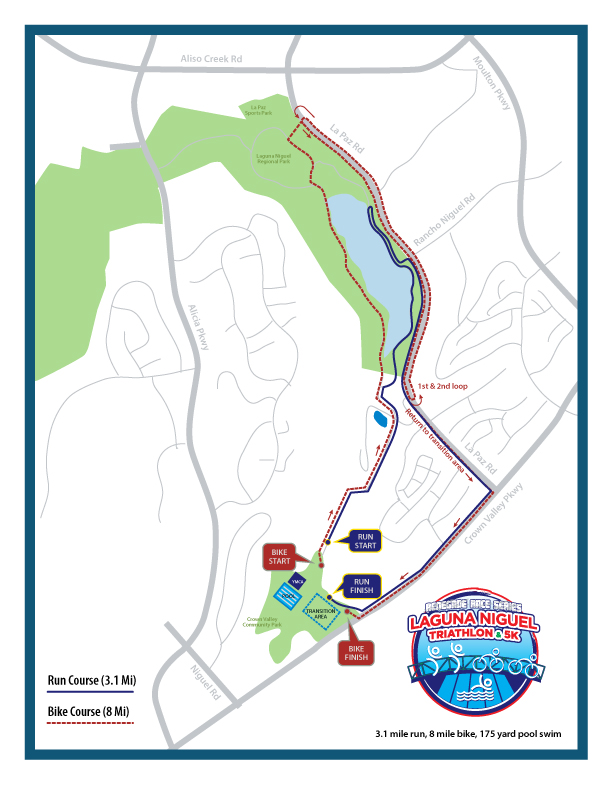 ---
Race Day Schedule (subject to change)
6:30 am

Registration, Packet Pickup & Expo Opens

6:30 am

Triathlete Transition Area Opens

7:30 am

Mandatory Course Talk with the Race Director (Transition Area)
7:45 am Transition Area Closes - Athletes Head to Race Start

8:00 am

Adult & Youth Sprint Triathlon & 5K Run Start

9:15 am

Awards 5K

9:45 am

Kids Run Starts

10:30 am

Awards Adult & Youth Triathlon

11:00 am

Event Ends
---
Parking (free)
Race Venue
Crown Community Park/YMCA
29751 Crown Valley Parkway
Laguna Niguel, CA 92677
Laguna Niguel City Hall
30111 Crown Valley Parkway
Laguna Niguel, CA 92677
**Short 10 Minute Walk
For the safety of athletes on the course, NO PARKING SIGNS have been posted on Crown Valley Parkway.
---
Triathlon Age Group/Division Awards
Men and Women: 20-24, 25-29, 30-34, 35-39, 40-44, 45-49, 50-54, 55-59, 60-64, 65-69, 70-74, 75-79, 80-84, 85+
Youth: 6-7, 8-9, 10-11, 12-13, 14-15, 16-19
Kids Runs are non-competitive and will be timed but overall and age division awards will not be given.
Relays: 1st, 2nd, 3rd in following categories: All Male, All Female, Mixed Gender
---
Training Partner: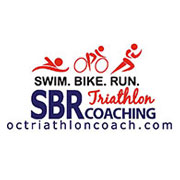 4 Week Triathlon Training Program
WHO:
Men/Women ages 12-70 years old of all athletic abilities!
WHEN:
January 6th- 28th, 2018
- Wednesdays
6:00-7:30 p.m.
and Saturdays
8:00-10:00 a.m.
WHERE:
The training will be centered at Racquet Club of Irvine, Laguna Niguel on race course, and on the extensive cycling and running trails throughout the Newport, Irvine and Tustin areas.
---
Beneficiary/Charity Partners:

The Laguna Niguel Triathlon & 5K benefits WeROCK (We Run Orange County's Kids), a non-profit organization that provides after-school intervention programs for the Middle and High School students of Orange County. By delivering education and proper training for the completion of a 26.2 mile marathon, We ROCK teaches our community's teenagers the important life skills of goal setting, self-reliance, discipline and self-confidence. To find out more about WeROCK or to join, visit www.WeRunOCKids.org
---
Sponsors
Interested in sponsoring Laguna Niguel Triathlon & 5K?
LN Tri and 5K Expo form: coming soon.

Questions? Contact us at 949-975-1812 or by email at This email address is being protected from spambots. You need JavaScript enabled to view it.
---